The Chemical and Physical Basis of the Biological World
The twentieth century is referred to as the technological century, although a more accurate description is the century of scientific understanding. The profound knowledge we have gained of the physical world is widely appreciated. However, the recent application of chemical and physical principles to the biological world has resulted in an equally profound understanding.
Thanks to the application of biochemistry and molecular biology we now know how genes work, how enzymes are able to carry out complex and utterly specific reactions, and, most importantly, how organisms regulate the expression of their genes and biological processes to allow complex behavior, fight disease, and utilize environmental resources. We face the promise of a new technological revolution for the 21st century based on biotechnology.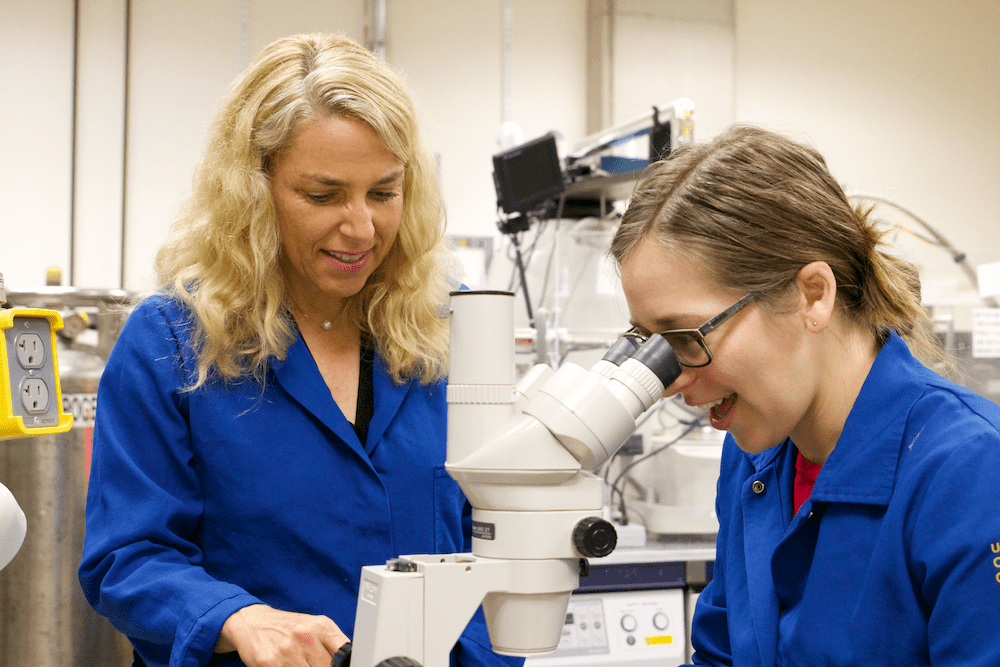 In recognition of the fundamental importance of molecular biosciences, the Department of Molecular Biology & Biochemistry and the School of Biological Sciences are sponsoring a new undergraduate major in Biochemistry & Molecular Biology. This major features an advanced exploration of molecular biosciences that emphasizes both the application of chemical principles to biology and practical, hands-on laboratory experience.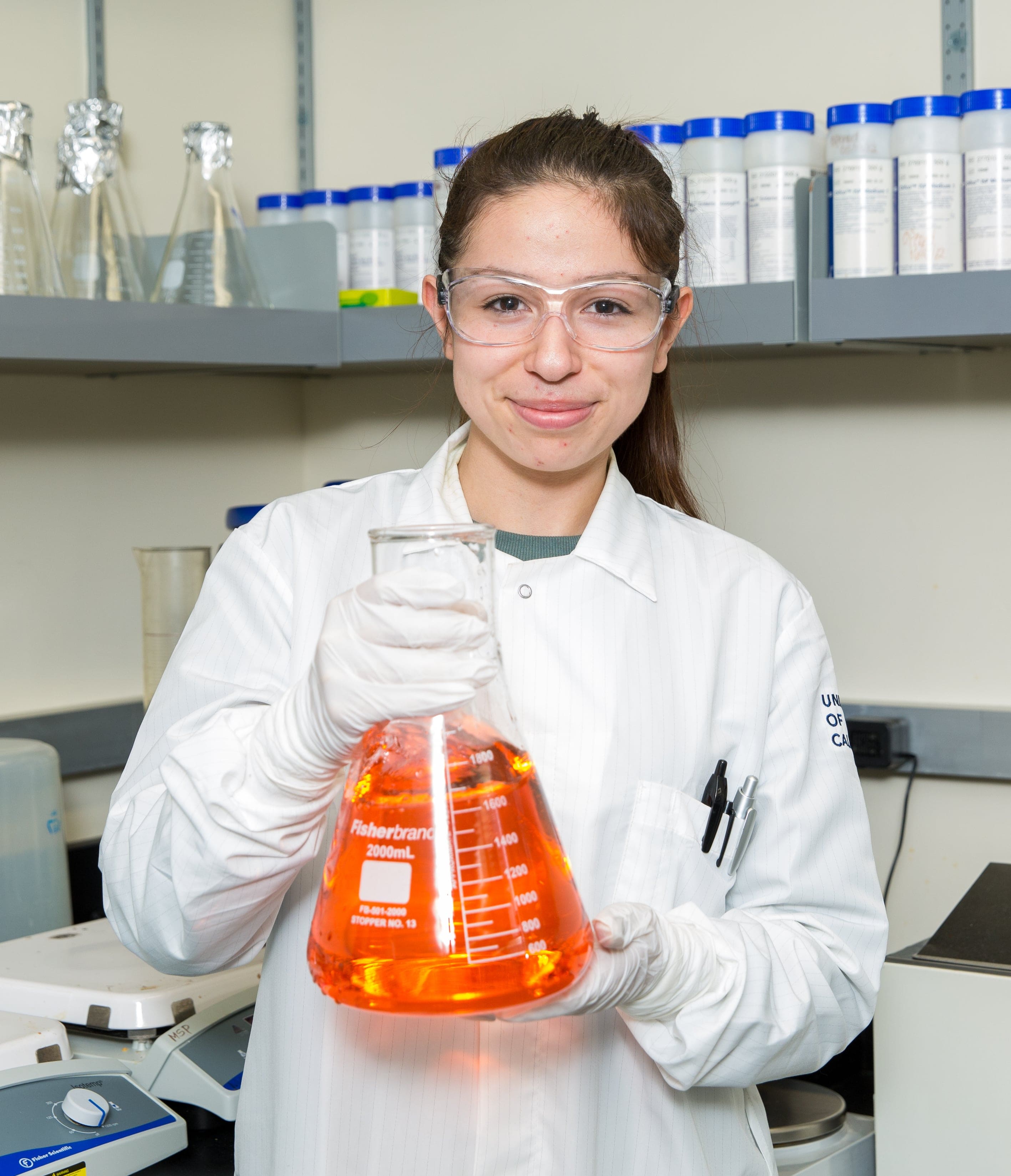 Who Will Benefit From this Major?
The major in Biochemistry and Molecular Biology has been designed with sufficient flexibility in upper division requirements to accommodate a wide variety of interests ranging from biological chemistry to molecular biology and genetics. It has also been designed specifically to articulate with the Chemistry major and is the most appropriate major for those wishing to major jointly in both Chemistry and in the Biological Sciences. This major, thus, provides the rigorous training necessary for successful entry to graduate and professional programs in the medical and biological sciences.
The application of technology and the scientific understanding underlying it has not been an unmixed blessing. Pollution, disease, war, and environmental threats continue to be our companions. But if, as has often been lamented, technology is a source of environmental and social problems, surely the better understanding of the impact of technology on our biological world will provide us with tools to palliate those problems. Majoring in Biochemistry and Molecular Biology will provide resources for serious students wishing to use a solid background in modern biology for career goals in business, law, public policy, education and other pursuits. With it and others like it, the promise of the 21st century can be realized.
Undergraduate Major in Biochemistry and Molecular Biology
Few areas of Biological Sciences remain that are not impacted by studies at the chemical and molecular level. The major in Biochemistry and Molecular Biology is designed to provide a comprehensive background in this modern, conceptual understanding of biology. Students who wish to begin in-depth study of the molecular basis in any of a variety of fields, including development, gene expression, immunology, pathogenesis, disease, virology, and evolution, can do so through this major. This program will be especially attractive to those students who intend to pursue an advanced degree in biological or medical sciences.
University and School Requirements
Major Requirements
A. Required Major Courses:

BIO SCI M114
Advanced Biochemistry
BIO SCI M116
Advanced Molecular Biology

B. Upper-Division Laboratories:

BIO SCI M114L
Biochemistry Laboratory
BIO SCI M116L
Molecular Biology Laboratory

Select one of the following:

Advanced Immunology Laboratory
Advanced Molecular Lab Techniques

BIO SCI 199 Study in Biological Science Research (Approved by the Biochemistry and Molecular Biology Faculty Board.)

C. Upper-Division Biology Electives:

Select three of the following:

Select one of the following:

Eukaryotic and Human Genetics
Genomics, Development, and Medicine
Introduction to Chemical Biology
Molecular Pharmacology I
Physical Biochemistry

Select two four-unit courses from the following:

Introduction to Chemical Biology
Molecular Pharmacology I
Physical Biochemistry

No course may be used to satisfy more than one requirement.
Application Process to Declare the Major: The major in Biochemistry and Molecular Biology is open to junior- and senior-level students only. Applications to declare the major can be made at any time, but typically in the spring of the sophomore year. Review of applications submitted at that time and selection to the major by the Biochemistry and Molecular Biology Faculty Board is completed during the summer. Information can also be found at the UCI Change of Major Criteria website. Double majors within the School of Biological Sciences or with Public Health Sciences, Biomedical Engineering: Premedical, Nursing Science, or Pharmaceutical Sciences are not permitted.
To view an example of a sample schedule please go to the main UCI catalogue.
Additional Information
Transferring from Another Major or School
The program is designed to allow students to move between the major and the general Biological Sciences major without penalty. Providing for such movement is necessary because a student will NOT be allowed to major both in Biochemistry and Molecular Biology and in Biological Sciences. A student may move into the Biochemistry and Molecular Biology major at any time during their third or even fourth years simply by taking Bio 114L as the prerequisite to Bio 114 and Bio 116. These courses do not carry majors only restrictions, leaving the path to the Biochemistry and Molecular major open to Biological Sciences majors even as late as the fourth year. Late transfers will of course, need to take appropriate electives courses during their third year. There is no impediment to this since many elective courses require Bio 98 and Bio 99 as prerequisites but won't require either Bio 114 or Bio 116. Such late transfer might provide a path into the major for a student who does not meet the eligibility requirement based on their second year Bio and Chem GPA. Such a student could petition for entry based on their performance in the appropriate Bio courses during their third and/or fourth years.
Conversely, since the existing Bio Core beyond Bio 99 requires no set order in which the courses must be taken, and since both Bio 114 and Bio 116 should be acceptable electives for the Bio major, a student can move out of the major and into the Biological Sciences major at any time without penalty.
We encourage Community College and other transfer students to major in Biochemistry and Molecular Biology. Transfer students cannot apply directly into the Biochemistry and Molecular Biology major, but instead will transfer into the Biological Sciences major. To be eligible to transfer subsequently from the Biological Sciences major into the Biochemistry and Molecular Biology major, a student must have completed 3 quarters in residence at UCI, have taken at least six required four unit courses in Biological Sciences, Chemistry, Math and/or Physics (including labs and eligible electives) and earned a GPA of 3.0 or above in those courses.
In accordance with this principle, a UCI student transferring from outside of Biological Sciences is also required to transfer initially into the Biological Sciences major. Subsequent eligibility to transfer into the Biochemistry and Molecular Biology major will be as described for other Biological Science majors.
Accelerated Tracks
The major is designed for advanced, mature, and motivated students. For this reason, we encourage interested students with the appropriate background to participate in the accelerated track. The accelerated track will allow students to complete both the physical sciences requirements and Bio 114L by the spring of their second year. Again this will also provide more opportunities for undergraduate research. In this track, students will take Math 2A-B along with an approved third quarter during the first year. This requires taking separate lower division writing and the approved alternatives to the Humanities Core. These approved alternatives can be completed the third (or even fourth) year along with other breadth requirements. An accelerated track will be required for those wishing to complete joint majors with Chemistry since these students will need to start the Physics 7 series during the second year.
An intense laboratory experience consisting of both the required upper division labs and also independent research (199) is an important feature of this major. Students planning to conduct undergraduate 199 research will be encouraged to take the biochemistry lab, Bio 114L, as early as possible. Since this course is given each quarter, students will have ample flexibility to take it earlier provided they have the prerequisite (Bio 98).
Double Majors with Chemistry
The Dept. of Chemistry offers several upper-division courses that are appropriate electives for the major in Biochemistry and Molecular Biology. Since a background in physical chemistry is particularly advantageous to a research career in biochemistry and molecular biology, a student will receive elective credit for all three quarters of the physical chemistry series (see major requirements).
The Departments of Chemistry and of Molecular Biology and Biochemistry are working closely together to ensure articulation. Both departments allow students to select many of their upper division electives from among course offerings of the other school. Thus, between the two programs, a student contemplating a double major in Chemistry and Biochemistry and Molecular Biology will have the ability to tune the curriculum, making it as biological or as chemical as suits their own interests. Double majors will follow the accelerated track in Biochemistry and Molecular Biology during the first two years and take physical chemistry, either Chemistry 130A-B-C or Chemistry 131A-B-C, in addition to the required courses for this major, in the third year. They will then be able to select the appropriate laboratories and electives in their third and fourth years to complete the double major.
Program Contact
For questions or more information regarding this major, please contact:
Dr. Melanie Cocco at mcocco@uci.edu or Dr. Pavan Kadandale at pavan.k@uci.edu.