Biotechnology Management, MS at UCI BioSci
The Department of Molecular Biology and Biochemistry (MB&B) in the School of Biological Sciences, and the Paul Merage School of Business, have established a Master of Science Program in Biotechnology Management (MSBTM). This program combines the essential elements of our highly successful Biotechnology Master's Program with those of several equally successful Master's of Business Administration Programs. It also capitalizes on a defined area of campus research strength in nanotechnology, tissue engineering and biomedical devices. Finally, as designed, the program provides advanced training in both biotechnology and business management, thereby allowing graduates the flexibility to pursue careers as scientists, as managers, or as both.
Prospective Students
Interested in applying for the program? Apply using the button below. For more information please contact Bessy Varela at bvarela@uci.edu.
Why Get A Masters Degree in Biotechnology Management?
Take graduate-level management courses with MBA students taught by a globally renowned business faculty.
Perform independent research in the laboratories of world class scientists.
Work closely with a dedicated Career Services professional who guides in the process of landing an internship and permanent position.
Participate in a multitude of extracurricular activities and competitions.
The Biotech Management degree will prepare scientists for leadership roles in biotechnology, pharmaceutical, and biomedical device based companies, through a curriculum comprised of courses in biotechnology, management, and biomedical engineering. Several courses will be delivered collaboratively by faculty members in biological sciences, engineering and management.
Students will receive advanced training in biotechnology through coursework, a teaching laboratory, and two quarters of independent research in a faculty laboratory of their choosing. They will learn to think as a business manager by solving product development challenges through consulting projects, creating business plans and by exposure to current issues within the biotechnology sector. Developing quantitative and qualitative skills along with business communication skills will be emphasized. Our students will learn about business from the biotechnology perspective and biotechnology from the business perspective, and will be taught to think about their work through the lens of innovation, a crucial view for their careers.
With more than 300 biotech companies in Southern California, graduates with an understanding of science and technology from a business perspective greatly enhance their career prospects in this competitive market.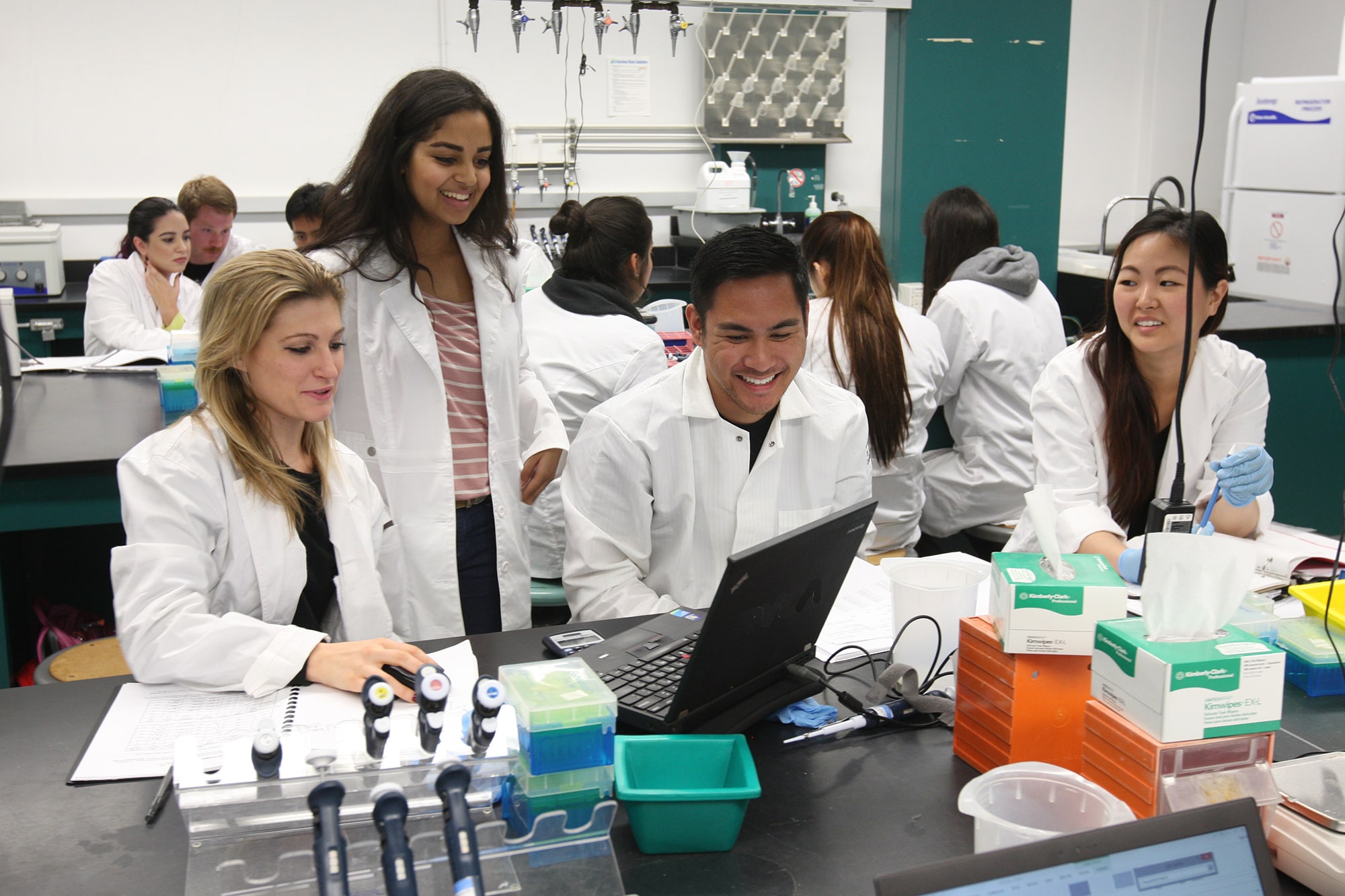 Additional Information About Program
Curriculum and Other Information
The MS Program in Biotechnology Management (MSBTM) is an interdisciplinary program that trains highly qualified students in both science and business/management.  Students take graduate level science courses with MS and PhD students from graduate programs spanning many disciplines.  They take their business courses with MBA students from the Merage full-time MBA and FEMBA programs.  They also spend a minimum of 2 quarters doing research in a laboratory of their choosing.  The overall goal of the program is to provide graduates with training that will allow them to enter the job market as highly skilled practitioners in science, business, or entrepreneurship, each capable of bridging the gap between the business and scientific sides of the biotechnology industry.
MSBTM students take the most creative and innovative courses that our MBA programs offer.  These include a first-year pre-quarter Intensive, a Business Plan Course, Experiential Learning (a quarter-long consulting project done in cohorts with MBA students), a Capstone Class and several others. See UCI catalog for curriculum details: https://catalogue.uci.edu/schoolofbiologicalsciences/biotechnologymanagement_ms.
In addition, students are afforded the opportunity to participate with MBA and Law Students in numerous competitions, such as the Hult Prize (a Global Entrepreneurship competition), the yearly Technology-Entrepreneurship Competition (with the School of Law), and the Annual New Venture/Business Plan/Competition).  Combined with their science coursework and research, MSBTM students are embedded in the cultures of two distinct disciplines, benefiting from their experiences in both.
All MSBTM students receive extensive career guidance and counseling, and financial aid, throughout their two years at UCI.  The amount of financial aid varies and depends upon the student and the available budget each year.  See Application Deadlines and Program Costs tab for information about tuition and fees.
Qualifications and Admissions
Applications to MSBTM program should be submitted through the Graduate Division, and can be found at:https://apply.grad.uci.edu/apply/. Supplemental materials (official transcripts, letters of recommendation, GRE and TOEFL scores) can be submitted directly to Molecular Biology and Biochemistry (see below). Prerequisite requirements will be the same as those for the ongoing MS Biotech program, which includes a BA or BS degree in biological sciences or related discipline and several specific elective and laboratory courses. Admission to graduate standing in MB&B is generally accorded to those possessing a B.S. degree in biological sciences or an allied field obtained with an acceptable level of scholarship from an institution of recognized standing. Those seeking admission without the prerequisite scholarship record may, in some cases, undertake remedial work; if completed at the stipulated academic level, they will be considered for admission. Those admitted from an allied field may be required to take supplementary upper-division courses in basic science subjects. The Graduate Record Examination (GRE) General Test is not required, but can be submitted if desired.
Foreign students will be required to submit a TOEFL score and occasionally a TSE score. Applicants from India must submit one of the following in order to be eligible for Graduate studies consideration: a continuous 4 year degree from an accredited University, College or Institution or a completed 3 year Bachelor's accompanied with a completed 2 year Masters. The combination of 3+2 would be the equivalent of the U.S. Bachelor's. We do not accept a straight 3 year Bachelor's nor do we accept a 1 year completion of the 2 year Masters in the 3 + 2 combination.
Applicants will be evaluated on their prior academic record and their potential for management and leadership as demonstrated in the submitted application materials: University transcripts, letters of recommendation, resume with a list of applicable work experience, and two essays. The first is a Statement of Purpose, describing your motivation for this program and future career goals. The second is a Personal History Statement. In this second essay, let us know more about you and your academic and professional journey. We encourage you to describe any barriers you have overcome to pursue your education, and also list your contributions to diversity and inclusive excellence in science or the workplace. After initial application review, some applicants will be invited to a video interview by admissions counselors from the Paul Merage School of Business.
Normative Time to Completion: 2 years of full-time study (6 quarters plus a recommended summer internship).
Application Deadlines and Program Costs
The recommended deadline for fall applications is January 15. After that date, completed applications are processed on a rolling admissions basis, meaning they are evaluated as they are received.  Additional target deadlines to assist you in your application submission are March 15th and June 1st.
For information regarding the program or admissions please contact Ms. Bessy Varela at bvarela@uci.edu.
Fees and Tuition: Fee information can be found at http://www.reg.uci.edu. As the MSBTM is a Professional program, please be advised that there is a professional fee of approximately $15,700.00 per year. Financial aid typically covers 35-40% of the professional fee cost. There are additional opportunities to offset program costs. Most students obtain a paid internship in the summer after the first year, and many students are eligible to obtain Teaching Assistant (TA) positions for 1-3 academic quarters. Information on responsibilities, requirements and benefits can be found on the Graduate Division website here.
Program Officials
Bessy Varela
Dept. Molecular Biology & Biochemistry
3205 McGaugh Hall
Irvine, CA 92697-3900
bvarela@uci.edu
Directors
Dr. Suzanne Bohlson
Dept. of Molecular Biology and
Biochemistry
Program Director
Dr. Gerardo Okhuysen
Paul Merage School of Business
Associate Director